Flower Paintings in Interior Design
Flowers are one of the major subjects of Lena's art. Poppies, sunflowers, bouquets, garden, – you can find a lot of them on the ART by LENA website.
Those flower paintings are ideal for decorating walls of your home or office. They can be placed over a sofa, above the fireplace, or on any wall in family room, living room, den, hallway or in the bedroom.
When you hang the painting, you should keep it at eye level. Lena's paint medium and large size artworks, so you can either have one large piece or several, grouped together.
Scroll down to see some real-life examples of rooms decorated by Lena's art collectors.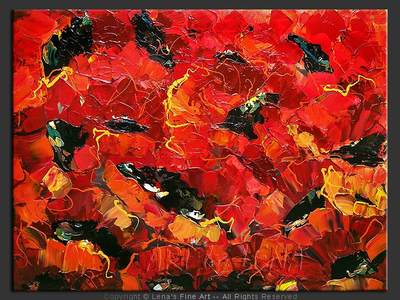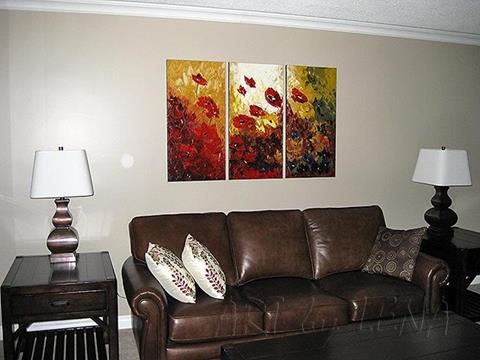 Flower Art Over Couch
This triptych is painted on three panels 18″ x 36″ inches each making it a perfect art over a 3-piece sofa.
The painting forms a "window" on the wall, and its deep red colors work very well with the dark brown leather sofa and the stands around it.
This room's design is quite modern, with no "frills", so the artwork does not need any additional framing.
---
To see more paintings like this one, check out the "Sunset Poppies" art series.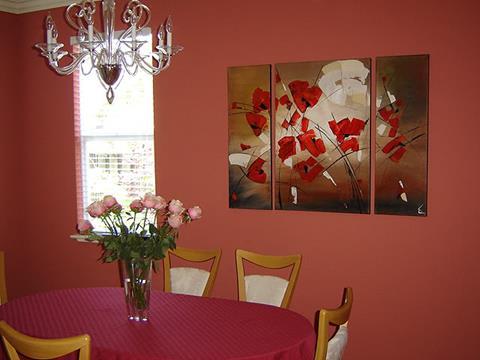 Red Poppies on Red Wall
This living room in a sunny California home is decorated with a Poppies triptych. The central panel is 24″ inch wide. The sides are 12″ inch wide. The height is 36″ inch, so the total dimensions are 48″ x 36″ plus some 1-inch gaps between panels (adjustable to your taste).
The red, white and brown colors of the painting are the exact match of the walls and furniture in this room.
---
The artwork is from the "Majestic Poppies" series.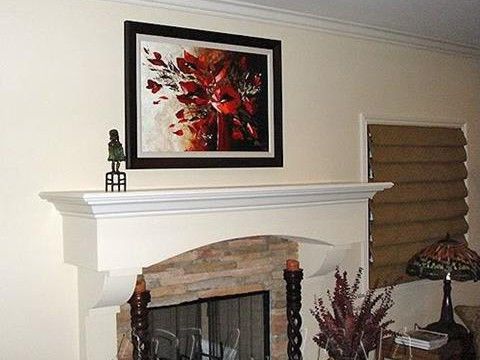 Framed Artwork over the Fireplace
This bouquet painting is 36″ inch wide and 24″ inch high. The frame adds a few inches making the total size about 40″ x 30″, which is a great size for an art above the fireplace mantle.
A carefully chosen frame provides a "transition" between the painting and the interior. In this room, it separates the highlights of the left side of the artwork from the light wall and from the pure white mantle. The dark frame matches several elements of the room decor.
---
More paintings like this one are tagged with the "Bouquets" label on ART by LENA website.