More than 2,000 paintings sold online!
Lena Karpinsky started selling her artworks online in 2004. Since then, more then fifteen hundred people purchased Lena's paintings. Below are some reviews on Lena's original artworks from those people, randomly taken from emails we've got, from the ART by LENA fan page on Facebook and from Disqus comments: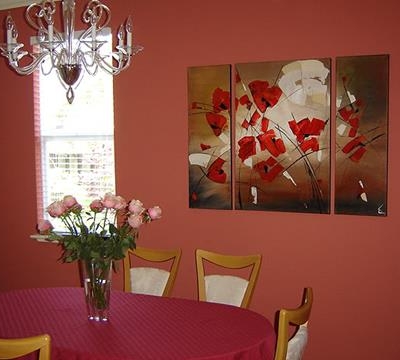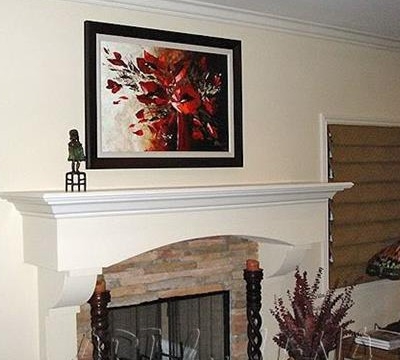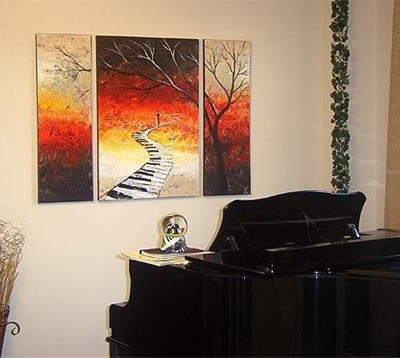 A review of ART by LENA
received via Disqus by Tati Tommasini on
May. 12, 2012:
★★★★★
What a talent!

Congratulations on your beautiful work, I am amazed at your paintings.
Hopefully be able to have one in my house one day!

Lena, we received the paintings and they are beautiful! Thanks so much for commissioning with us. Your art is truly awesome!
Thanks for shipping the art work. Looking forward to making it part of my home. I needed something to inspire me to paint my living room and your fantastic work I just what I needed.
I picked up the package at the post office today and everything looked good. I just finished hanging the painting on my wall and it looks great. I will definitely need more to fill an area in my bedroom and living room. I will be leaving positive feedback and will be ordering more in the future. Thanks for everything.
Let me just tell you that I have no words to describe how beautiful the painting is. First thing I did when I got back was to hang it on the wall and honestly, it looks even more amazing in real life than in the pictures.
I received the painting from you and was very pleased with the quality… I look forward to buying from you again in the future. — J.K.
I received the art and it is perfect!! More than I expected. Thanks and I will most certainly be purchasing from you again. — E.
Lena, we received your painting yesterday! Thank you for taking great care in packing and labeling it fragile. We hung it up already and it looks great in its new home. Once I have it framed and add lighting, it is going to look even more beautiful. The colors are as vibrant as expected. I look forward to seeing more of your work. — T.
Your work is absolutely amazing! …For the record, your talent rivals many of great masters! — D.C.
I am surprised you are not a famous millionaire, your pieces are some of the best work I have seen. — JW
Lena, was delighted with your painting. Contemporary is, by far, my favorite. Your colors are so intense, yet a very smooth flow overall – with just a hint of realism. It will find an appropriate location in my home. — B.V.
Good evening, Lena, I have never written to an artist before, but when I saw your work online, I just had to contact you. There is a vibrance and yet, a joyful emotion in your work. I suppose it's not really work, but more of an expression of the depth of your emotions. Believe me, it shows! There are very few abstract artists whose pieces have spoken to me, but I do enjoy Dali, Picasso, and Kandinsky. I've never owned even a print of their work, but I feel very compelled to purchase yours. — J.G.
I went looking for Abstract Art for the living room – when I came upon your work. Your work – The Piano – jumped out at me in a completely different way from everything I've seen on the net, and believe me – I've done a lot of looking. I fell in love with your 'Piano' painting. That one really spoke to me. I could really identify with the painting of the Piano — I almost felt as if I were standing there – looking – at myself with distant eyes. Hard to explain, but in a way – it's how I view myself. Music is my love. Water is also something I love – and I am always looking for-to- at it… I saw it as a sea of music – and the longing to walk along its shores. Thank you for a very special moment! I'll continue to watch your work. You are exceptionally talented. — A.H.
I received the painting yesterday. I'm so happy you were able to do that for me. It looked excellent online but was much more dramatic in person. Thank you again for the quick and smooth shipment. I look forward to seeing more of your works online. — B.H.
I am a freshman in high school and in my art class we were supposed to find some art work on the computer and write a paper on the artist. I chose you. I really like your work… I just thought I would write you and tell you that you work is really inspiring. — R.S.
You have energetic beautiful paintings. God bless you. — A.S.
Hi Lena, I just stumbled across your website and thought I'd let you know that I think your paintings are brilliant… Congratulations. — M.
I randomly stumbled upon your website and absolutely fell in love with some of your pieces… — T.W.
Your work seems very colorful and uplifting. — D.J.
Lena, I have received the paintings in perfect condition. Thank you so very much for releasing additional works in this series. I had bid on the original triptych some time ago, and unfortunately never won. So, it is a great pleasure to have another chance to own your paintings. Thanks again. — P.H.
I was astonished by the work you have done. A really thrilling work of art. — T.T.
Hi Lena, I received the paintings today and they are truly beautiful!!! Thank you so much. If I or anyone I know is in need of a great painting I will refer to your website. Once again I appreciate your work and look forward to doing business with you in the future! — B.S.
Lena, …needless to say, you have once again captured my imagination with this work of art. I will probably be bidding on this painting..I would be a fool not to! Beautiful. — T.B.
I recently discovered your work on the internet and must say that I find them refreshing and passionate… I am looking to fill a modern home … and your style would be perfect… — M.J.
I will for sure buy the painting… I must say I am very fond of your paintings and artistic style. — D.E.
I just wanted to let you know that I received the paintings… Thank you so much, I am very pleased with your work, you are a great painter and very professional as well!!! Thanks again, I really appreciate it and in the future if I am looking for another painting, I'll definitely look you up. — N.W.
I've cleared the wall above the couch and look forward to adding the colors and energy of your artwork into my living room!! — T.B.
Your work is amazing… The way you use color WOW. Your work when I see it makes me fill alive. — J.G.
A great artist with a great personality!!! I'm going to enjoy the painting even more now that I know you have a sense of humor too!!! … You have a nice web site with some wonderful artwork! — B.O.
I have lots more wall space available, which will no doubt have more of your paintings hanging from them in the near future! — B.O.
Your work has a modern feel that is so perfect for my life and surroundings! Just so you know, I love that 5 piece set, and I like bright colors… If you could let me know when your next one is done it would be appreciated… I hope you can do something similar in simplicity and elegance… Can't wait to see what it looks like! Thanks! — S.
Your work is absolutely beautiful. I just moved and I wanted that triptych to be the centerpiece of my living room. Again absolutely gorgeous! — Y.
The painting arrived yesterday… It's beautiful, I love it! You are truly a wonderful and gifted artist with a great sense of humor and I look forward to buying more of your art soon! Take care and thank you so very, very much! — B.O.
The paintings just arrived and are better than expected… We look forward to purchasing more pieces from you in the future. — L.S.
I received the pieces today and they look great! Very nice job of presenting them digitally, but of course the real life version is that much more impressive. — K.M.
Just a quick note to tell you that we are enjoying having your paintings in our living room and have had many compliments from guests and friends during the Holiday season. I have referred many to your website. Keep up the good work! You're the best! — G.K.
Lena, I wanted to thank you for the beautiful work… I just received the painting yesterday afternoon, in perfect condition. It's already hanging in my home… I enjoy all of your work, but this piece really struck me. — L.H.
I'm a very new art collector, just came across your paintings while browsing the net and was instantly intrigued! …I fell in love with the 6 squares and have a perfect place for them in my home. — L.L.
We really like your work and we are really looking forward to getting the paintings. It's usually very difficult for us to pick a painting that we both like, but going through your collection we found ourselves agreeing on a lot of them. — E.G.
The painting arrived today and looks great. Thank you so much for your quick shipment and for such a great painting, it's exactly what we were looking for! — E.G.
I have searched to find some moving floral images and yours seemed to retain their natural quality and yet have a contemporary presence… I love them. — I.
Lena, you are a wonderful artist! The works I saw made me smile and be sincerely happy that such talent exists on Earth… — E.J.
Thank you Lena, the painting came and is even more stunning in person. I will definitely be purchasing more of your work. — S.V.
Hey Lena. We love it. It looks amazing. We're actually planning on bidding on another one… I just left positive feedback. Thanks again. — R.S.
Just received the painting today and LOVE it!!! It is my first piece of "real" art… Thank you very much – I will definitely be looking your works up again!!! — C.E.
Hi Lena! I recently came across your art and I absolutely love your pieces. Especially some of the triptychs you've done. I'm interested in making a purchase… — G.S.
Lena, I really liked the painting and admire your quality of work! — J.M.
The art arrived on my doorstep today. I am very happy with it! I am really able to put myself into the paintings…, it gives me a great sense of escape… — S.B.
The painting arrived safely! I am really happy with my purchase. It looks fabulous in my family room above the fireplace… I think I made a good purchase. — M.C.
Your work is magnificent, the colours are vivid and eye catching and appeal to me immensely!! — L.
I am an Interior Decorator, and came across your site by searching for oversized art. I was having such trouble finding great works for very large walls. I definitely bookmarked your site. Your work is truly original… I hope to be able to pass your name on to many of my clients. — N.
Your work is magnificent!!! I am so excited to have found you!!! It is very hard to be an artist these days. Appreciation isn't what it use to be. Mass production and everybody wanting something "yesterday" makes the job difficult. Most of the art sites I found are mass production of a 100 prints everyone has already seen. That is why I am excited to have found your site. — N.S.
Hi Lena, we got the picture and it is beautiful… The packaging was great and we received the painting in perfect condition… Thank you so much for everything. It has been a pleasure doing business with you. We look forward to buying from you again. — B.O.
The painting is absolutely beautiful. You are so talented. I appreciate it very much. Looks like I'll be bidding on your item again soon!!! I already left you a feedback. Thank you for your beautiful work. — A.
Your art is beautiful and I hope to have it hanging in my home soon — R.S.
Hi Lena! We just got the paintings and they were great! We are moving to our new condo… and we intend to put it up on our living room. The colors are so alive and we have no doubt it's going to look really nice. I will definitely email you a photo of your painting once we have settled in our new home. Again, thanks and I really love your painting. — M.