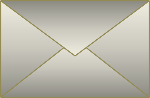 • Thank you Lena, the painting came and is even more stunning in person. I will definitely be purchasing more of your work. — S.V.
• Usually it's hard for me to appreciate non-objective art. Still, something about your works really drew me in. The depiction of space and that suggestion of another believable world fascinated me. — H.K.
• Lena, I can't tell you how surprised I was that your artwork is ten times better in real life than on your website. It's gorgeous. Thank you. — C.S.
• Hi Lena, I received the painting yesterday. It is absolutely beautiful. It looks exactly the way I hoped it would and fits wonderfully in my home. Also, just a note the packaging was great. No problems. Thanks again! — J.H.
• Good morning Lena. I picked up the painting yesterday and I really like it. I'm checking your other listings for something else that I like because I really need another piece... Thank you for a terrific transaction. Oh, and it was packed very very well, I couldn't have asked for a better transaction. — T.